DISCOVER the STORY of SOUM NOUM
"Welcome to our homepage"
In Lao, "Soum Noum" means "to gather". It is this concept that you will find in our restaurants, mixing Lao & Mediterranean culinary arts in its dishes.
Soum Noum Luang Prabang is perfectly located in the historical centre of Luang Prabang, nestled between the Mekong and the Nam Khan Rivers. Renowned for its rich architectural heritage, the city is a sublime blend of traditional Lao urban architecture and that of the colonial era.
Our second restaurant Soum Noum Champasak is located on the peaceful main street of Champassak town. This sleepy, rural town offers stunning views of the Mekong River, and the famous UNESCO World Heritage Site, Wat Phou, is just down the road. At night you can enjoy the terrace with the stunning lighting surrounded by the warm atmosphere and the aroma of our delicious cuisine in the open-air restaurant. The restaurant Soum Noum is also part of our hotel Residence Bassac, a great place to stay whilst in the area.
A WORD FROM OUR CHEF
"You will discover the combination of distinct cultural traditions with our refined cuisine. Mixing local ingredients with Mediterranean culinary skills, we offer a variety of dishes using fresh local produce, carefully selected at the local morning market."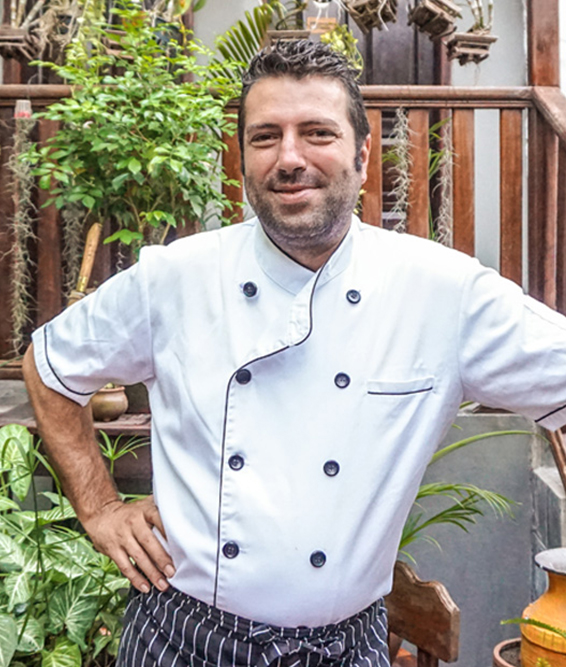 DISCOVER OUR MENU
 Our varied dishes, skillfully blending the best local ingredients with Mediterranean culinary techniques, will satisfy all palates from the adventurous to the more cautious. All the dishes are prepared with selected, fresh ingredients. You will find the classics of our menu available all day, with "market" dishes served each evening. Service non-stop from 6am to 10:30pm.